We believe our client portfolio demonstrates the capability, collaboration & commitment we deliver …
Our clients' positive experience working with us is paramount. We are committed to building a strong relationship and deep understanding of what matters most to you. In a fast and rapidly evolving environment, you need strategic insights as well as practical operational assistance. Real work on the ground with organisations of all types, sizes & cultures fuels our growing knowledge & expertise across the increasingly cross-cutting sectors that we serve, the sharing of which is at the heart of our mission to give value through our advisory, speaking & training activities. 
We are committed to excellence. It's the reason why clients trust us to find ways to improve the quality, impact and value for money of what they deliver.

We take a holistic viewpoint. It's the reason we can see what's often in an organisation's blind spots to pinpoint the best solutions to their tough challenges.

We are dedicated and professional in all that we do. It's the reason we work hard to achieve success for our clients not just for ourselves.
Review & Challenge
We have undertaken numerous internal audit assignments for public sector organisations and can offer high value reviews that require an assurance or advisory output.
We provide an independent, supportive external perspective looking at specific internal processes, such as quality management, sales & marketing, customer journey, transational procedures, and so forth, or examining the holistic effectiveness of annual planning processes.
The result is an independent critical review, highlighting positive findings, areas for improvement and recommendations for management action.  
External Evaluation
Our reputation for evaluation stems from considerable experience working in curriculum innovation and e-learning development in the education sector.
As an external evaluator, we have provided high quality, objective reviews of numerous high profile national programmes and institutional projects and we always do so within the required timeframe and budget.
The result is an insightful, evidence-based & independent report integrating quantitative & qualitiative data and highlighting the outcomes achieved and lessons learned.
Strategic Planning
We have delivered business and marketing strategy support to several regional business growth programmes in the UK, including:
Marketing Birmingham
New Enterprise Allowance (NEA) scheme
Growth Accelerator
Projects included SMEs in industries as diverse as media production, food manufacturing, photography, and financial services.
The result is a critical appraisal of the business, clarity on the direction of travel and requirements for growth, and improvement action plan.
Our client portfolio logo board …. the story so far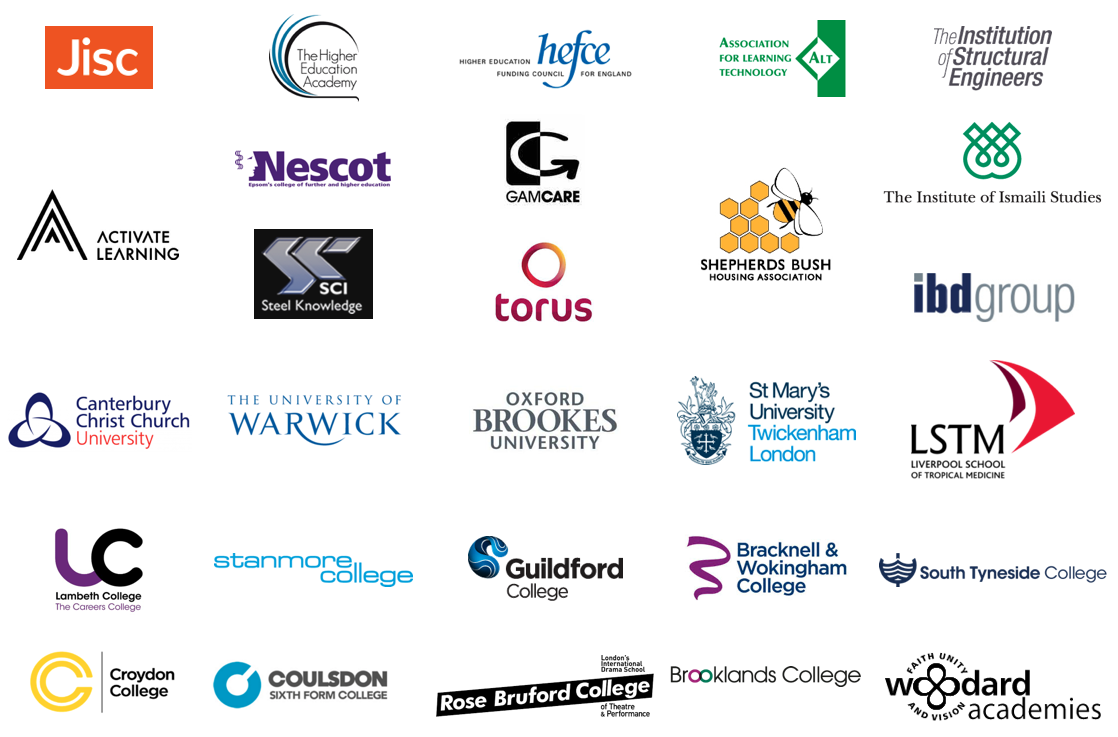 A big thank you for undertaking the work so carefully and methodically and producing such a thorough and balanced report, which has many benefits including the remarkable richness of quotes and the very helpful classification of quotes and benefits, and other assimilated evidence.
I have nothing but positive comment on the way we were supported by Belanda Consulting in developing the scope of the work, broadening our own views and consider alternatives.
Dr Dempster liaised with us closely to ensure the brief was clear and was careful at all times to work closely with the team in a very supportive way.  I was delighted with management of the evaluation work, which was conducted in a timely, professional way.
Thanks for helping us to start the new year with a clearer set of messages and benefits for key stakeholders. We appreciate all your thoughts and recommendations. It's really valuable to have this objective view on the materials on the website and a fresh perspective for the internal processes supporting our service sign ups.
Jay has been instrumental in identifying a number of operational improvements and business growth opportunities across the three sides of our business. She guided us through a complete strategic review and helped us create a digital roadmap for our next two planning cycles.
This has resulted in a more simplified and structured marketing process, improved our customer engagement and follow up and upped the sales performance of our core programme.
Increasing our know-how as well as our profits, that is the best evidence of a successful mentor.
On behalf of my colleagues, I would like to thank you formally for completing the evaluation consultancy and for submitting the set of reports that reflect outputs of the various phases. It has been a pleasure working with you, and providing input into the proposed new strategy, which resonates in its overall philosophy with the Institute's vision of striving for educational excellence.
We would like to acknowledge the work that you and your associates have undertaken at different levels – in reviewing our existing evaluation models, seeking input from various stakeholders, suggesting strategic and developmental options, and facilitating in an integrative manner the qualitative improvement of the educational programmes. 
We are also grateful for your support in the 'hand-over' process through additional meetings and a workshop with our working group. We have implemented the majority of the recommendations, including the critical formation of a new dedicated quality and evaluation unit in the Institute.
On behalf of OCSLD, I can say that we respect Jay's experience and expertise in carrying out this work. We are impressed by the solid understanding of the brief and effective management of the evaluation project as a whole.
The test of a good external evaluator is in reading their report and recognising that your institution and its cultures and processes have been understood. Jay's work on these projects passes this test. Her interview and analysis skills resulted in some excellent insights across an appropriate range of stakeholders. 
We have no hesitation in recommending Jay to others, and have done so on several occasions.
Do you have a particular project in mind? Let us know how we can help.